The presidential hopeful of Sri Lanka Podujana Peramuna (SLPP) Gotabaya Rajapaksa, attending the National Youth Convention of the party, addressed the solutions that would be provided to resolve the issues of the youth that concern the fields of education, employment, development, security, sport and environment. MORE..


25 Aug 2019 (3:02 AM)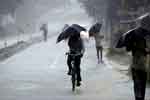 Windy condition over the island, particularly in Central hilly areas, Northern, North-central and North-western provinces and in Trincomalee and Hambantota districts (up to 50 kmph) at times and showery condition in South-western part of the island is expected to continue. MORE..


25 Aug 2019 (10:15 AM)



A person has been arrested in the Thalangama area in Talawatugoda over the possession of Cannabis, stated the Police. MORE..


25 Aug 2019 (11:29 AM)



The Leader of the Opposition Mahinda Rajapaksa says that he would like it if Minister Sajith Premadasa runs for Presidency from the United National Party (UNP). MORE..


25 Aug 2019 (11:06 PM)



The Department of Meteorology says that showers or thundershowers will occur in Western, Central, Sabaragamuwa, Southern and North-western provinces while light showers are expected to occur in Anuradhapura District. MORE..


26 Aug 2019 (9:20 AM)