The Ministry of Defence, issuing a special press release today (24), stated that lifting the State of Emergency will not have any impact on the ban imposed on terrorist organizations. MORE..


24 Aug 2019 (9:28 PM)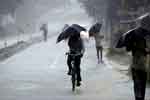 Windy condition over the island, particularly in Central hilly areas, Northern, North-central and North-western provinces and in Trincomalee and Hambantota districts (up to 50 kmph) at times and showery condition in South-western part of the island is expected to continue. MORE..


25 Aug 2019 (10:15 AM)



The Leader of the Opposition Mahinda Rajapaksa says that he would like it if Minister Sajith Premadasa runs for Presidency from the United National Party (UNP). MORE..


25 Aug 2019 (11:06 PM)



A person has been arrested in the Thalangama area in Talawatugoda over the possession of Cannabis, stated the Police. MORE..


25 Aug 2019 (11:29 AM)



President Maithripala Sirisena has been notified to appear before the special Parliamentary Select Committee appointed to inquire into the Easter Sunday attacks. MORE..


25 Aug 2019 (12:04 PM)